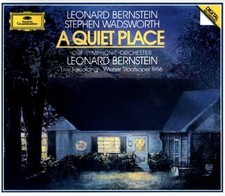 Leonard Bernstein's Opera
A Quiet Place at Palace of the Arts
When the Neue Oper Wien (New Opera of Vienna) makes its occasional visit to Budapest, the company always brings something remarkable. Modern opera, of course, as their name implies. Not to everyone's taste, but certainly never run-of-the-mill.
Tonight and tomorrow (April 9 and 10) at Palace of the Arts (Művészetek Pálotája), they will present Bernstein's opera A Quiet Place. There could hardly be a better occasion to discover this work.
In the 1980s, shortly after the death of his wife Felicia and at the suggestion of librettist Stephen Wadsworth, Bernstein felt it was time to revisit the characters he had created in Trouble in Tahiti. But this is no longer the gentle satire of suburbia he composed in 1952. Thirty years later, America is suffering from a deep malaise. All the traditional values, which seemed so rock solid in the 50s, have been turned on their head.
Sam's wife Dinah has died in a car accident. She was obviously driving drunk and possibly suicidal. Their two children return home after a long absence for the chilly funeral, but their father cannot accept the fact that his son Junior is gay. What is more, his daughter is married to Junior's former lover Francois, and they all live together in a very untraditional household. Quite naturally, Dinah's death motivates everyone in the family to confront their long suppressed demons and to make an overdue attempt at reconciliation.
What is so special about A Quiet Place? First of all, the American idiom. The dialogue preserves a way of speaking and behaving that transports us to this moneyed New England environment. Hardly anything sounds false. The music can be challenging – nearly atonal, at times – but being Bernstein, the composer incorporates jazzy melodies that are catchy and enjoyable. Finally, the opera treads where few musical works dare to go, exploring the frustrated desires and very palpable inner torment of the characters. We know that they may never make peace with themselves and each other. One absurd argument near the end shows how liable they are to explode at a moment's notice.
The four main singers give brilliant, candid performances. Steven Scheschareg captures Sam's blustery patriarchal style, while giving us insight into his personal agony. Katrin Targo is charming and utterly natural as Dede. Dániel Foki does an amazing job of portraying Junior's psychoses without letting the character descend into a mentally unstable fag stereotype. Finally, Nathan Haller brings a beautiful lyricism to the role of Francois, the irresistible man from Quebec. Director Philipp M. Krenn does not shy away from the material. He makes the subconscious urges of these characters apparent, as the style glides effortlessly between naturalism and grotesque surrealism. The single set solution interferes with the logic of the piece, and not all the singers are the appropriate age for their characters, but under the circumstances, the minor details are completely forgivable.
To top it off, the Festival Theater in the Palace of the Arts has just the right proportions to draw us into this intimate family sphere. This is a perfect chance to visit Bernstein's A Quiet Place. I, for one, am not likely to forget the experience soon.
A bejegyzés trackback címe:
Kommentek:
A hozzászólások a vonatkozó jogszabályok értelmében felhasználói tartalomnak minősülnek, értük a szolgáltatás technikai üzemeltetője semmilyen felelősséget nem vállal, azokat nem ellenőrzi. Kifogás esetén forduljon a blog szerkesztőjéhez. Részletek a Felhasználási feltételekben és az adatvédelmi tájékoztatóban.