Porgy and Bess at the Erkel Theater
There is a disclaimer on the programs and posters for the current show: "The manner in which this production of Porgy and Bess is being produced is unauthorized and is contrary to the requirements for the presentation of the work."
Gershwin forbade the use of white performers and singers in Porgy and Bess, because he feared the very real possibility that it would become a degrading minstrel show. His family, which still controls the rights to this work, upholds this prohibition. But what are we to do in Budapest? Hiring an entire black cast is prohibitively expensive. At best, we could stage a concert version with guest artists, which is what Margaret Island's Open-Air Stage did last summer in 2017. Do we have to forego the pleasure of staging, performing, and viewing the complete work?
To find out, I viewed the Hungarian State Opera's new production of Porgy and Bess. (It is shown at the Erkel Theater, since the traditional Opera House is being renovated.) This is not an entirely new phenomenon. Budapest had a successful production of Porgy and Bess with white singers in 1970, featuring Júlia Kukely in the role of Bess. From a photo in the State Opera's own publication (Opera, November/December 2017), we can tell that they used dark make-up to give her the appearance of a light-skinned African-American woman.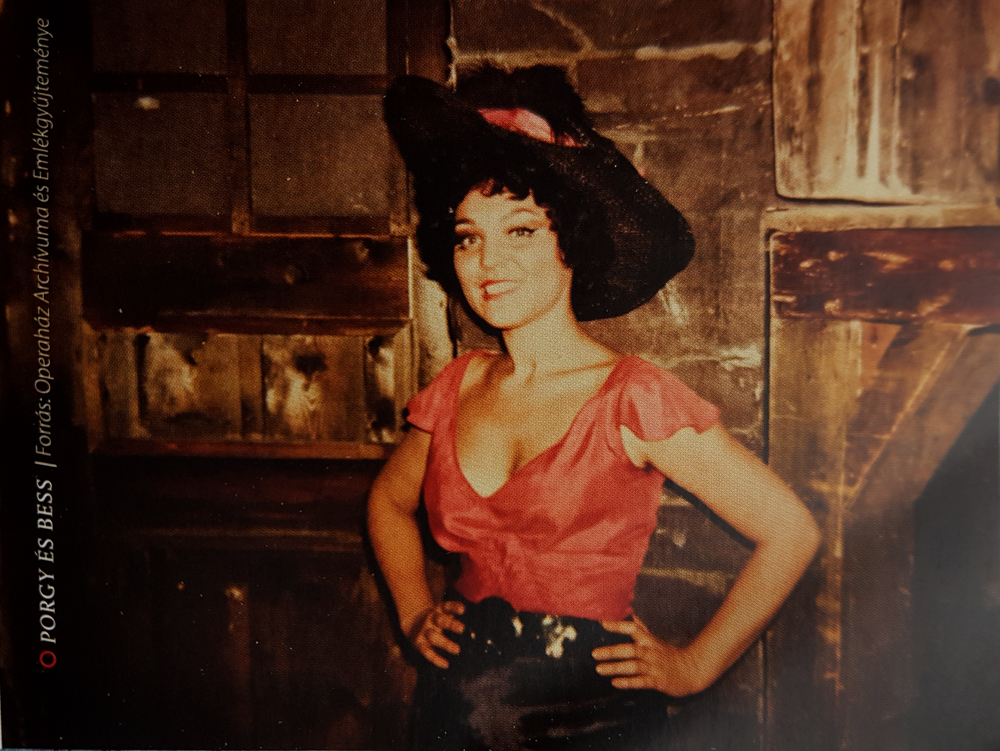 In the current production, no special make-up effects were used. Indeed, director András Almási-Tóth stated in the program that he did not wish to create an authentic environment. "[That] would simply be imitating and illustrating," he claims, "It would not bring [the Hungarian audience] closer to the work, only distance them from [it]."
I know I hold the minority opinion where I take issue with this trend of modernizing and localizing older or foreign pieces. For me, I can better exercise my imagination and my empathy if I am presented with an unfamiliar setting; otherwise, I find myself spending too much intellectual energy trying to process the director's adaptation of the original. Be that as it may, Almási-Tóth decided not to make an opera about a poor black fishing community in South Carolina. He was free to create any world he chose onstage. What did he come up with?
The actors seem to be homeless, since they regularly distribute buckets for washing and mattresses for sleeping. Are they refugees or survivors of some natural disaster? Their clothes are colorful and rag-tag, but they do not offer much insight. In fact, the costumes are not flattering at all. As for the setting, their shelter resembles either an overpass or a building in some abandoned office district designed by I. M. Pei. The walls are immobile, which presents a problem for the picnic scene, and there is no separate door to Porgy's room. That spoils the climax of the first scene, when Porgy offers Bess shelter.
As for the actors, Marcell Bakonyi is completely unconvincing as Porgy. He acts far too self-satisfied, and his handicap disappears in the second act. So is he a "cripple," as everyone calls him, or a hypochondriac? Gabriella Létay-Kiss, who has performed brilliantly in other operas, does not quite find Bess. Her heart is not in it. Csaba Szegedi has little to do as Crown, who is basically an aggressive buck stereotype. Péter Balczó, as Sporting Life, comes off as a flashy wannabe gangster. As in so many other productions, Sporting Life's intelligence, demonstrated in his solo "It Ain't Necessarily So," does not come through.
Just about everyone renders the English text like foreigners. No attempt is made to replicate the Gullah dialect, which has all but died out, anyway. Andrea Mélath gives us a Jamaican (or Creole?) accent as Maria, which is clear in the solo where she curses Sporting Life. Anikó Bakonyi sings her two solos splendidly, although not quite in the gospel style Gershwin intended.
This applies to the orchestra, too, which is often too classical and well-mannered for the jazzier sections of the score. The well-fed chorus lacks credibility, especially in the group scenes modeled on gospel masses. Their outcries are half-hearted when they should be soulful. The stage movement is simple, minimally choreographed, and generic.
All this begs the question: Wherein lies the value of Porgy and Bess for a modern audience? Of course, it is a love story; but beyond that, its appeal lies in the tension between the eclectic music and the poetry of the Gullah dialect, as preserved by author DuBose Heyward. That is precisely what the Hungarian singers are unable to convey. This version may do for a local audience, but for English-speakers, it is a poor substitute for the real thing.
A bejegyzés trackback címe:
Kommentek:
A hozzászólások a vonatkozó jogszabályok értelmében felhasználói tartalomnak minősülnek, értük a szolgáltatás technikai üzemeltetője semmilyen felelősséget nem vállal, azokat nem ellenőrzi. Kifogás esetén forduljon a blog szerkesztőjéhez. Részletek a Felhasználási feltételekben és az adatvédelmi tájékoztatóban.